Wealth Management Philosophy
We know that success comes with unique and often complex wealth management needs. Evaluating your family's needs and objectives from a holistic perspective enables us to develop and maintain an effective wealth management strategy guided by you. We will focus on all aspects of your wealth including:
Investments
Estate planning
Philanthropy
Asset protection
Tax management
Financial analysis and cash flow management
We believe that applying an integrated, after-tax approach to investment management is the optimal advice model for affluent investors. Our disciplined approach toward portfolio construction reflects our belief in the importance of several key factors:
Appropriate investment of assets relative to your objectives
Wealth transfer strategies used to optimize after-tax assets
Entity structures (such as trusts) in place to provide greater control over asset disposition and liability risk
Cost effective access to capital markets returns
Philanthropic efforts that provide the maximum benefit to you and those you support
Understanding the Benefits of Portfolio Balancing
Our Core Philosophy
Markets provide the best estimation of value
Risk and return are related
Engineered passive strategies for public markets
Skill is better accessed in private and fixed income markets
Asset allocation matched to client goals
Access to top managers is critical in inefficient markets private and fixed income
Minimize expenses and taxes to further success
Our Mission
To leverage and optimize our clients' financial, social, and human capital toward the achievement of their life goals.
The Importance of Diversification
A deep commitment to diversification creates a natural hedge that is capable of minimizing volatility and potentially enhancing returns over time.
It is widely known that diversification is a primary way to manage risk in an investment portfolio. In addition to receiving a return for assuming risk, we seek to eliminate risks for which there is uncertain return, such as holding single industries or too few securities. Incorporating a variety of asset classes into an investment portfolio can improve results. This can be accomplished through combining financial assets (public and private stocks and bonds), and real assets (real estate, energy, timber, etc.), or by adding different components, such as international equity and small cap or value stocks, to existing asset classes. The result is a full range of asset classes encompassing the market's spectrum.
Our sophisticated asset allocation process creates portfolios that consider each client's risk tolerance. But it is equally important to us that we thoughtfully consider your financial goals and the assets available to meet those goals.
Diversification does not ensure a profit or protect against loss in a declining market.
Tailored Portfolio Approach
Our process starts by identifying your goals. We understand each family has a unique set of goals in life and a pool of resources that, when aligned with sophisticated wealth management, can help to achieve those goals. Our mission is to leverage and optimize your financial and human forms of capital toward the achievement of your life goals and family mission.
Once your goals are identified, capital and investments are allocated based upon the character of each goal. This customized approach encourages focus on the long-term strategy without being swayed by emotional reactions to the markets.
Your life goals are the foundation of our goals-based investing strategy.
We recognize that families use their wealth in different ways, whether it is your annual lifestyle needs, funding a college education, purchasing a second home, funding retirement, or philanthropy. Your life goals will be the foundation of our goals-based planning process.
We will start by taking a very personalized approach to identifying your life goals. By analyzing and identifying how long it takes to achieve each goal, we will be able to better match your goal with appropriate investments. We recognize that in life there are certain goals that represent "wants," while others come with more certainty and can be characterized as "needs."
We will help you prioritize your objectives to provide confidence that your customized investment strategy is aligned with your lifestyle goals.
What is Goals-Based Investing?
Goal-based investing offers a holistic approach to managing wealth by carefully aligning your investments with your life and legacy goals. It aims to bring discipline to investing by putting your financial objectives at the center of the investment process.
Custom Wealth Management Process
1)  Determine Goals
Current Income
Large Purchase
Retirement
Family/Gifting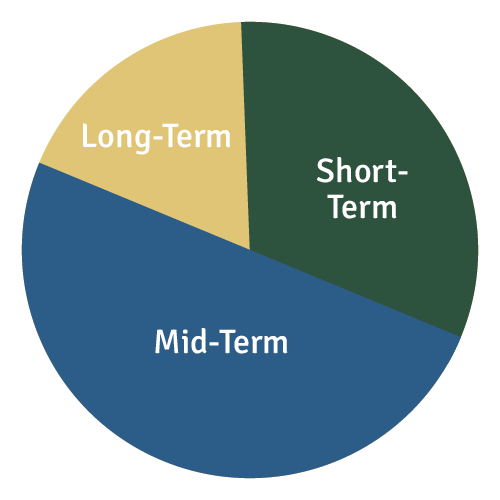 2)  Assess Characteristics
Timing of Goals
Importance of Goals
Risk Tolerance
3)  Final Asset Allocation
Equities & Fixed Income
Financial & Real Assets
Human Capital
Diversification Value
Liquidity
4)  Review Plan
Goals
Timing
Importance
Asset Allocation
Each client has a unique set of goals in life and a pool of resources that, when aligned with sophisticated wealth management, can help to achieve those goals.
After identifying and analyzing your goals, capital and investments will be allocated based upon the character of each goal. This customized approach to goals-based planning provides clarity and commitment to a long-term investment strategy regardless of short-term market changes. Our experience shows that goals-based planning:
Builds confidence in customized strategies that are aligned with family goals
Increases understanding of risk exposure
Provides perspective and discipline during market volatility
Enhances success of achieving desired goals
Sophisticated, yet simple in its delivery, our investment process is driven by an investment philosophy based on these beliefs:
Market prices are the best estimate of current value
Risk and return are related
Investors should be compensated for risk
While asset class investing strategies are appropriate for most situations, there are instances in which active management is appropriate. When that is the case, we believe access to elite managers is critical. At the same time, we seek to minimize tax and investment management expenses to achieve cost-effective access to market return. Where possible, institutionally-priced products are used to leverage economies of scale. Once your plan is in place, your advisor will meet with you regularly to review your goals and adjust your target allocation to accommodate any changes to your goals.
Ongoing Portfolio Management
We recognize that clients often have both taxable and tax-deferred assets. Our specific fund selections are tailored for each type of tax environment. We continually manage our portfolios, rebalancing each to its targets and updating the investment products to reflect advances in investment science, product applications, and research.
This highly integrated portfolio solution leverages advanced academic research, portfolio structuring methodologies, product applications, tax sensitivity, and institutional pricing. These sophisticated portfolios are linked together—matching your risk tolerance—with ongoing portfolio management.
Ready to Get Started?
The Family Portrait Form is designed to preliminarily ascertain information about your personal and family goals, thinking, and approach to wealth management. It is also intended to begin to give us an understanding of your attitude toward risk. In other words, it provides a "portrait" of you and your family. Click below to download, fill out and bring it to our first meeting.